| | |
| --- | --- |
| Posted by GreenBanner18 on October 3, 2009 at 12:31 AM | |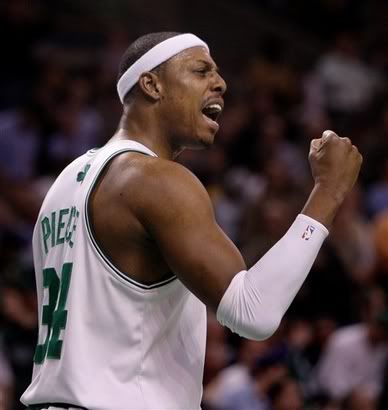 Since the start of camp, there hasn't been too much talk surrounding Paul Pierce. The majority of the talks have been about Garnett with obvious reason. Other topics of discussion include how Rasheed looks, what positions Marquis Daniels has been participating in, the Rasheed / Perk situation, and what Rondo is playing like. Leave out the everyday quote here and there, and there would be no commenting on Pierce. As far as I am concerned, no news is good news on number 34. We know what to expect from Paul, so when he goes out and looks good, it is nothing new. The Boston Herald quotes Doc Rivers on Pierce not being covered in great detail this past week.
 "Each guy is critical in his own way, but Paul's our primary scorer," Rivers said. "I mean, when we need a bucket, Paul's our guy. When we need an open shot, Ray (Allen)'s our guy. But Paul is such a big part of everything we do."
The talk about Paul Pierce can be as minimal as it wants, the fact is when the season starts, he will be a vital peice of the puzzle. He doesn't mind the lack of coverage on him anyway. He loves having the new guys around to help him out. Boston Herald:
"It's great having stars around you because you feel less pressure," Pierce said. "You know that on any given night you?ve got guys that can carry you."
For Pierce to be on the back burner says alot for the team. You are putting the affect of an All Star away from the main focus. Going into the season all of the hype will be around what to do with Rasheed and KG. I think that works just fine for the Celtics as Pierce will be able to do his thing without being keyed on like he has in the past. That will create disaster for opponents.
Photo via PB