| | |
| --- | --- |
| Posted by B-PAUL on October 7, 2009 at 12:07 AM | |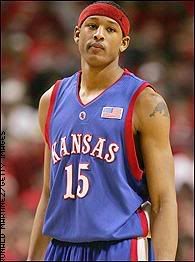 Earlier in the week we did an article about Lester Hudson, and the troubles that he had to face before reaching the NBA. Today I read an article on Boston.com that caught my attention, it is a story about dealing with a tough situation, and eventually turning it into a good story. The article was written due to a recent brawl between football and basketball players at Kansas University, where Giddens attended.
It was Giddens sophmore year at KU, his basketball career was on the rise, and he was NBA bound. But then, he made a decision that he will regret for the rest of his life. According to cbssports.com, It was 2 a.m on May 19th, 2005, when witnesses say Giddens was the primary instigator in a fight that led to his stabbing. The fight happened at the Moon Bar, about a mile from the KU campus. Witnesses said that there was up to 10 guys punching the victim, Jeremiah Croswell. Croswell responded by getting a knife and stabbing four of the men, one of which was Giddens. The stabbing put Giddens on crutches for several weeks, and made him question where his career was going. When asked about the recent fight at KU Giddens responded by saying:
"I learned there's a way that you should and shouldn't act, Your decision-making -- me getting stabbed, that could have been the end of my career. So it kind of made me want to be wise about the decisions I made."
It seems like Giddens learned his lesson, but had to learn it the hard way. Following the stabbing Giddens transfered to New Mexico State, where he later went on to be drafted by the Celtics. Hopefully Giddens continues to put the past behind him and we wont have to deal with any troubles while he is in Green, or Red (Red Claws). 
While you're here make sure to sign up to become an offical member of Gino's Jungle. Sign up for Ginos Jungle NBA Pickem and join in on the discussions. The best part: It's all free!!!!