| | |
| --- | --- |
| Posted by GreenBanner18 on October 31, 2009 at 2:00 PM | |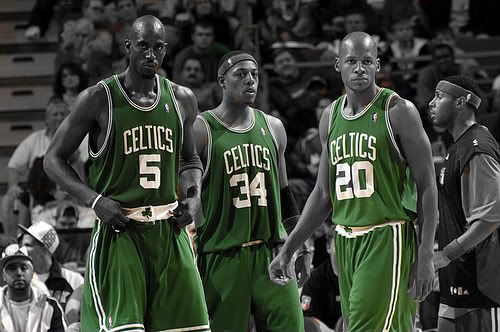 How do you feel about the Big 3's minutes so far? Maybe a little much? Well, lets look at some stats.
Kevin Garnett- MPG (This season) - Little under 28 -  MPG (07-08) - Little under 33
Paul Pierce- MPG (This season) - Around 31.5 - MPG (07-08) - Little under 36
Ray Allen - MPG (This season) - Around 34.5 - MPG (07-08) - 36
Through 3 games we dont have the largest sample in the world, however it gives us something to look at if we are complaining. I think going into the 07-08 playoffs (the year we won the championship obviously) the Big 3 were very healthy and well rested; atleast as much as you can be for enduring an 82 game season. They are older, yet still need the appropriate time to grow their team. Lets face it, the game against Charlotte the starters didn't need to play for a second and we still would have won. However, every other team in the league is growing and getting better, we must do the same.
The averages the Big 3 are at right now, as far as I am concerned, are very reasonable. Considering the 2 blow out games we have played in, you would expect their minutes to be low. Some people want those minutes to be even lower. I agree... somewhat. I don't know about pounding Ray out for 38 one blowout game then 24 the next. Maybe distribute it a little more evenly?
For an average of the first 3 games, 2 blowouts and 1 hard fought win, I don't have an issue with where the minutes are. By the looks of it, their minutes will be less than the avg. of their mpg in the 07-08 season. That is a good sign for the marathon the Celtics are involved in.
Agree or Disagree?