| | |
| --- | --- |
| Posted by GreenBanner18 on November 16, 2009 at 12:00 PM | |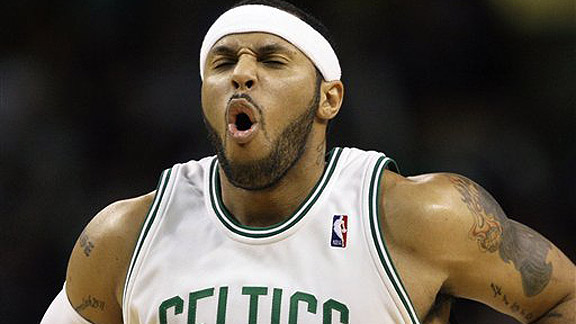 When we started out the year, we figured the pick up of Rasheed would bring the Celtics exactly what they needed from the bench. We needed another scoring threat that could help us not just keep a lead, but add to it. We already had Eddie House to provide some scoring, but the wealth needed to be shared. Well what we have noticed happening is the lack of scoring from Eddie House lately, thus leading to a smaller surge from the bench than we expected.
House has surely had his games, one of which came against Chicago. In the Bulls game he went 4-7 from deep and ended with 22 points. Two games later against the 76ers he went 4-5 from 3 point range and put in 12 points total. Around those games, the question is when is he going to heat up?
Time for some more in depth statistical analysis: On the season Eddie is shooting 40.6% from three. That doesn't sound too bad, yet it is a far cry from his season average of 44.4% from last year (Take out even 1 of his 2 good games and it gets ugly). In 8 out of 11 games this season, he has had 1 or fewer threes made. In the last 6 games House has averaged 3.2 ppg, and in those 6 games, 4 have come where he did not make a single 3.
Enough Eddie House bashing, let me get to why all this means absolutely nothing down the road. Last year he started the season out the same way. Actually he started out even worse. Through the first 11 games, his 3p% was 24%. It didnt take him but 8 games later, in mid December, to quickly get that boosted up to 39%. The rest is history (literally) on his way up 44.4. Lets face the facts that as a 3 point shooter, he is a player built off confidence. When he sees a string of 3's rim out, it makes it harder for him to visualze the rest going in. Once Eddie sees a couple in a row go through, watch out. If the past proves anything, it shows when House makes a few, he could go 7-8 from three on one night, then follow it up the next night with a 5-7. For now, we must sit and wait- his shot will be coming very soon, to an arena near you.