I'm a shameless Rondo fan, plain and simple. I have been from the first time I saw him play, and much more so when he became a Celtic. He's fast, talented, smart, athletic, confident, and possesses all the tangible qualities required of an NBA Point Guard. But there's a pronoun we sports enthusiasts assign to a quality in an athlete that lumps all those amazing intangible talents and abilities together into one highly revered word: "It". Though "It" means many different things to many different people, I think we all have the same general concept of the very special qualities that it represents.
I think we can also agree, (generally), that "It" is a rare thing, reserved for only the athletes of a very unique group, who are usually quite physically talented, have an above-average aptitude for their respective sport, and an amazing work-ethic, that continually spurs them on to be over-achievers. But "It" goes even beyond these qualities, and is that rare, undefinable element that puts them "over-the-top" ... that lifts them to an elite level reserved for only the very greatest of greats.
Do all the athletes with that rare "It" quality make it to the "Big Time"? Not at all ... I think many, for dozens of different reasons, never realize their potential, or never get recognized by the right people, or never succeed in falling into the very special series of events required to reach the highest levels of professional sports. Like one of my favorite quotes states: "There's nothing more common than a talented under-achiever". Simply put, most of the greatest talent in this world, is never discovered ... unfortunately.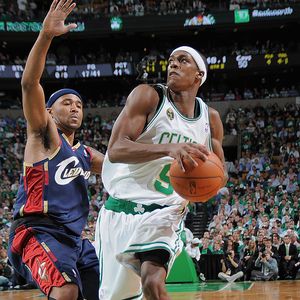 In the realm of basketball, it seems a bit more obvious to recognize those with the "It" factor ... Michael Jordan, Larry Bird, Bill Russell, Kobe Bryant, LeBron James, KG, Magic Johnson, Kareem, Hakeem, etc., are just a few of those who have exceeded the "normal" level of expertise and talent in their sport, who have gone far beyond just being great ball-players, into that amazing level of "Superstar", where all the other incredible talents and abilities are added to that rarest of qualities, "It", that truly defines the best-of-the-best.
Now, this is not an immediate thing, obviously. "It' doesn't just happen overnight, and only after an athlete has reached the highest level of expertise. It's the one intangible quality that they're born with ... that motivates them throughout their lives, in seemingly small ways initially, and slowly becomes more and more visible, as the little successes in life translate over time into the larger ones. It develops and grows with all the rest, but is always there, quietly branching out it's tendrils, until it permeates every fiber of that person's being.
When I first saw Rondo play, I could tell he had that "It" quality. It's generally not very obvious in a player at that age, but it was there nonetheless ... that little extra something that set him apart from the rest. Oh, he was very young, with immature tendencies to his game, and the expected propensity for "silly" mistakes that comes with inexperience. But in spite of having those regular problems that young players do, it was still clear that he had that extra element so hard to define, but easy to label as "It". Some people call it "Basketball IQ" or instinct, but I think it goes far beyond that, and relies on all the senses: physical, mental, and intuitive.
Since his coming to the Celtics, he's grown by leaps and bounds ... not just with his abilities on the floor, but with all those requisites that define the "It" factor. Each year, despite the often-touted criticism by many, and the awesome responsibility of being handed the position of starting point-guard to the one team in the NBA with the greatest expectations, he's continued to grow in all those areas, and continued to progressively gain the respect of fans, players, and coaches alike. Ever-so-slowly, as people and pundits consider just what it is that makes this kid so surprising, it becomes clearer and clearer that he has: "It".
This was never more evident than it was while KG was injured recently. As during the periods of previous Big Ticket absences, Doc finally relented to giving Rage the reins, and the go-ahead to just "play" his game. Our opponents were clearly going to keep Rondo honest, and challenge him to step-up and hit his shots from the outside. Though it was highly evident that very few, (if any), opposing PG's could keep up with Rajon, and that his number one option was to drive to the paint and create inside, it was equally obvious he was going to have to hit jumpers as well, as some teams were being fairly successful of closing down the lane.
Enter the "It" factor again. As we've witnessed so many times before this season, (and despite that little butterfly in the stomach that tries to tell us he's in way over his head), Rondo stepped up and called the opponents' bluff, hitting his jump-shot with regularity, and even draining a tres from time-to-time. Keep in consideration, this young guy is only in his fourth year at the NBA level, and his court-time the first year was extremely limited. He's literally got the weight of the world on his shoulders, and three superstars looking to him to set tempo and distribute the ball ... yet he never flinches. He takes the wheel gladly, with a steadiness and quiet confidence that gives even more credence to the elusive "It" factor.
Whatever that "It" factor is, however it's defined with what words are suitable, it's obvious to me that Rage possesses it, and that "It" guides and motivates him to achieve far more than is expected of him, and way beyond what his abilities alone dictate. The sky is truly the limit for this kid if he stays healthy, and if he continues to develop at the pace he is now, he will surely be one of the premier point-guards in the NBA ... and more. I look forward with great anticipation to watching Rajon grow over the next few seasons, and in him leading this Celtic team to new heights. Whatever we achieve as a team, Rondo will supply plenty of excitement himself, and continue to astonish us with his level of performance.
Here's to hoping Doc has finally seen the light with this rotation, and that Rondo will be the attacking point-guard and tempo-setter we need now and in the foreseeable future. Here's to hoping that his seemingly endless resiliency keeps him off the injured list, and keeps him hopping up off the floor whenever his larger opponents try to slam him to the parquet. Here's to hoping he'll be allowed to continue pushing the tempo and attacking the basket consistently, and that we'll once again have the running, highly defensive team we had in the '07-'08 season. Here's to hoping that he continues to drain his outside shot, and forces the rest of the NBA defenses to adjust, loosening up the paint for our Stars.
Here's to hoping that he keeps the pedal down, and continues to successfully drive this "Green Machine" ... and that "It" Rages!!
Go Celtics!