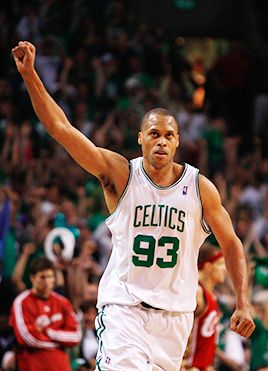 2 years ago the Celtics grabbed a man by the name of PJ Brown. When he first showed up, it was like, "Yah, okay, so he can be our insurance card late in games." His first game out on the court for the Celtics was not a pretty sight. It was clear that he had a lot of rust he had to shake off. Obviously there was very little expected from him. We already had the team in place we knew could win a championship, and he was just a guy thrown in the mix.
Suddenly, as the playoffs picked up, so did PJ Brown. Quickly he received the motto, "What can brown do for you?" (A runoff from the delivery service UPS) He had big play after big play off the bench, highlighted by a big shot with 1:21 left in the fourth quarter against the Cavs in game 7. Another memorable play was his dunk on Kobe to finish out the 3rd quarter of a Finals game in LA.
As fans of this team, we can not forget the contributions this guy would unknowingly bring to the championship run. It was said very well by Joe Zedalis of Yahoo Sports:
"While years from now the game will be remembered for the Paul Pierce-LeBron James shootout, which Brown described as a wild, wild West duel, the Celtics wouldn't be playing in the Eastern Conference finals for the first time since 2002 - they open up at home against the Pistons tomorrow - if it weren't for Brown. The 15-year veteran forward came off the bench and provided an unexpected boost in 20 minutes, shooting 4 for 4 and finishing with 10 points (all in the second half), 6 rebounds, and five difference-making plays in the fourth quarter."
As we always said in our house while watching the playoff games and Brown got the ball... "PEEEEEJ"... and he never disappointed.
Well this year, in a nearly similar situation, Finley has been added to the team. Afterall, he was all but sitting at his home just like PJ Brown was. Finley got very limited minutes in his time with the Spurs this year. Just like PJ, we didn't expect a single thing from Finley when we got him. Already he has shown signs that he may be just what the DOCtor ordered.
Finley has come from the dead, and is hitting shots with extreme regularity. His three point stroke looks just as good as ever, and he is extremely confident in every shot he takes. It will be a major plus to have the kind of scoring ability he has provided thus far, for the remainder of the season and especially into the playoffs.
It is far too early to make assumptions, but I don't think it is not out of the question to think that Finley may have PJ Brown like effects on the Celtics run this year. That's why the game is so fun to watch- you never know who or when any player will step up. Sometimes it is the most unlikely of heroes.
(Photo by Brian Babineau/NBAE via Getty Images) / Photo by Jim Rogash/Getty Images