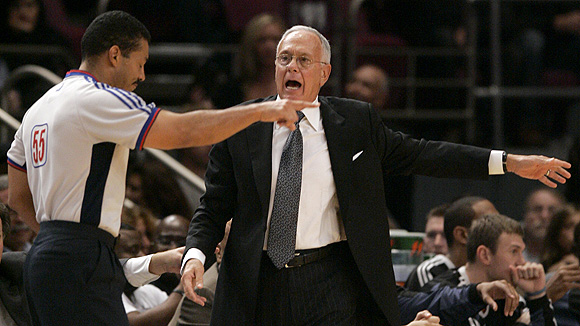 A few hours before last night's game between the Celtics and Magic I learned that Bill Kennedy would be one of the three referees on the crew. Over the past few years, more specifically during the "Big Three Era", Kennedy has been one of the worst referees in eyes of Celtics fans. Whether it be hatred towards Doc Rivers, Wyc Grousbeck, or the Celtics as a whole I always knew that when Kennedy was refereeing a Celtics game the guys in green would get no favors from the guys in stripes.
Finally on May 10th I received an explanation as to why Bill Kennedy has been haunting the Celtics since the Big Three era. The explanation came from former NBA referee Tim Donaghy, who was a special guest on The Celtics Late Night Show. The night before we had Donaghy on the show I sat down at my desk for over an hour thinking of quality questions to ask Donaghy when he came on the show. One of those questions was regarding the relationship between Kennedy and the Celtics. I can honestly say I didn't expect the answer that I received from Tim.
Me: One of the referees I've been annoyed with over the years is Bill Kennedy, every time he has a Celtics game I almost know that we're not getting calls. Is his relationships with Doc Rivers or the Celtics organization as a whole something you know about?
Donaghy: That's a difficult question for me to answer because I certainly don't want to offend anybody... I'm just gonna come out and say it like it is. It's no secret on the staff that Bill Kennedy is a homosexual... I don't have any ill will towards gays or lesbians, but it was no secret that he's a homosexual. It was known around the league, it was obvious during a game Doc Rivers questioned his sexual orientation and I think that has stuck with Kennedy over the years and he has no love for Doc Rivers and the Boston Celtics
At first many people probably just disregarded this quote because it is coming from a guy who served time in a federal prison for illegally betting on NBA games. I on the other hand put two and two together and realized that maybe this is the case.
First I looked back to March 2009 when Doc received one of the most unwarranted ejections in the history of the NBA. Kennedy tossed Rivers for simply saying, "What?" after Kennedy starred him down for 10+ seconds while Doc was walking away. Then I look at pictures of Kennedy and although I'm not homophobic in any way I have to question Kennedy's actions and attire. His XXXS zebra shirt is enough in itself to question his sexuality.
Whether Donaghy's claim is true or not I was very interested to see the interactions between Doc Rivers and Bill Kennedy in last night's game. I had my pen and paper ready to take notes on all the bad calls that Kennedy sent the Celtics way. I expected my hand to hurt by the second quarter from writing so much but much to my surprise I only had two bad calls written down at the end of the first quarter.
Those two calls were countered by just as many bad calls against the Magic. He called an unwarranted foul on Vince Carter and then an even more unwarranted technical foul after Carter was watching the replay of the play at the scorer's table. At this point in time I was completely in awe. Not only was Kennedy a horrible ref for the Celtics; he was a horrible ref in general. Kennedy and his crew tried their best to get all eyes at Amway Arena and on national television on them.
As a result of this one of the top social networking sites, Twitter, completely blew up with tweets about Kennedy's horrible officiating. Instead of doing my log of bad calls against the Celtics I quickly decided to switch gears and keep a log of the best tweets involving search tag, "Bill Kennedy".
Here are the top five:
SherrodbCSN: "OK. I can live with XXXL a.k.a. Bill Kennedy's too tight gear. But these calls ... brutal, man. Brutal. #Celtics benefiting from bad calls."
RedsArmy: "Hey.... maybe Bill Kennedy is just a bad ref and he doesn't just hate the C's"
KWAPT: "Hey Orlando, welcome to Bill Kennedy's world. We have been there many times. Enjoy."
SportsGuy33: "NBA officials were terrific in Round 2. Atrocious last night. And tonight? Bill Kennedy reffing a Celtics game. So much for ref momentum."
Tortacular: "I don't know who Bill Kennedy is, but he's kind of a crummy ref."
Final Thoughts: Whether or not Bill Kennedy is a homosexual, or if he holds a grudge against Doc Rivers for questioning his sexual orientation, it is pretty clear that he is a horrible ref no matter what game he is refereeing.