| | |
| --- | --- |
| Posted by Bahku on May 28, 2010 at 9:40 AM | |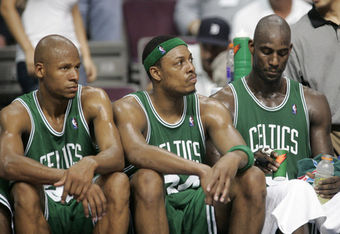 I've read a lot of great articles about this series over the last couple of days, most leaning in the negative direction, (for obvious reasons), and I agree with almost all of them. We've got a lot going against us right now:
The injuries to TA, Sheed and Rajon, the concussions to Big Baby and 'Quis, the technical foul problems with Perk, the switch of momentum and confidence to Orlando, the not-so-stellar home record we have this year, the highly questionable calls from the officials, and the prospect of a Game 7 in Orlando ... a mountain of adversity in front of us, and some tired legs to climb it with.
But despite the overwhelming turning-of-the-tide in favor of the Magic, I still feel positive. The reason I'm still encouraged about our chances, is because of all these problems being thrown at us, and all the odds stacked in favor of Orlando. Yes, almost everything is going against us right now, but that is when this team always plays it's best basketball, when it's being sold short or doubted.
This is a team that thrives on adversity and that loves a good fight, and the fact that we're seemingly swimmimg against the tide right now, (with the Magic getting all the breaks), is just the reason that we'll be playing at our best tonight. Adversity is what separates the men from the boys, and I'm confident that our proven response to that adversity, is what will ultimately clinch this series for us once-and-for-all.
When it comes right down to it, beating the odds is what defines "Celtic Pride" ... and "Celtic Pride" is what defines this team.
Go Celtics!